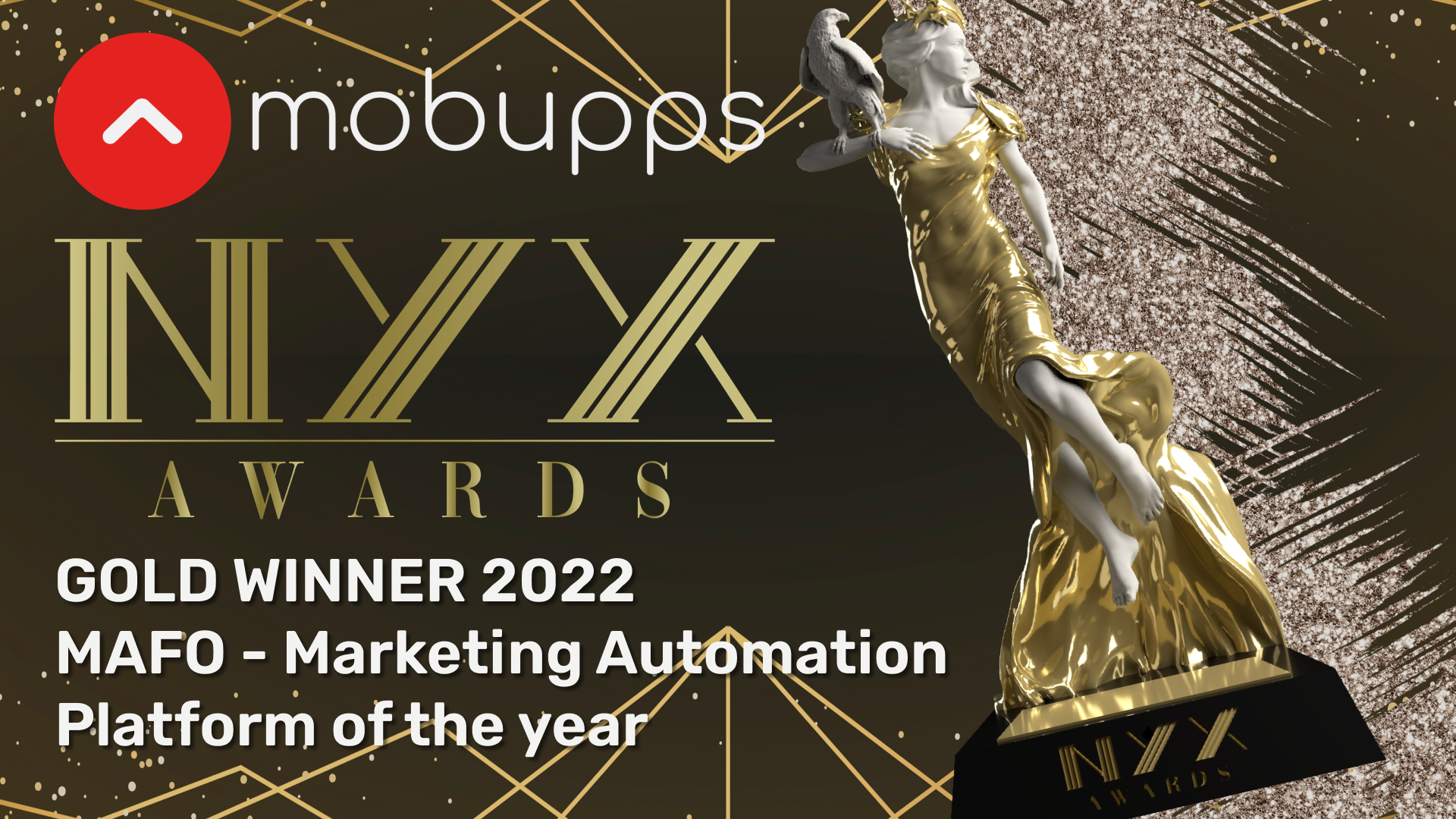 Mobupps Wins NYX Award 2022
Mobupps Achieved the Greatest Honors in Season 2 of the 2022 NYX Awards!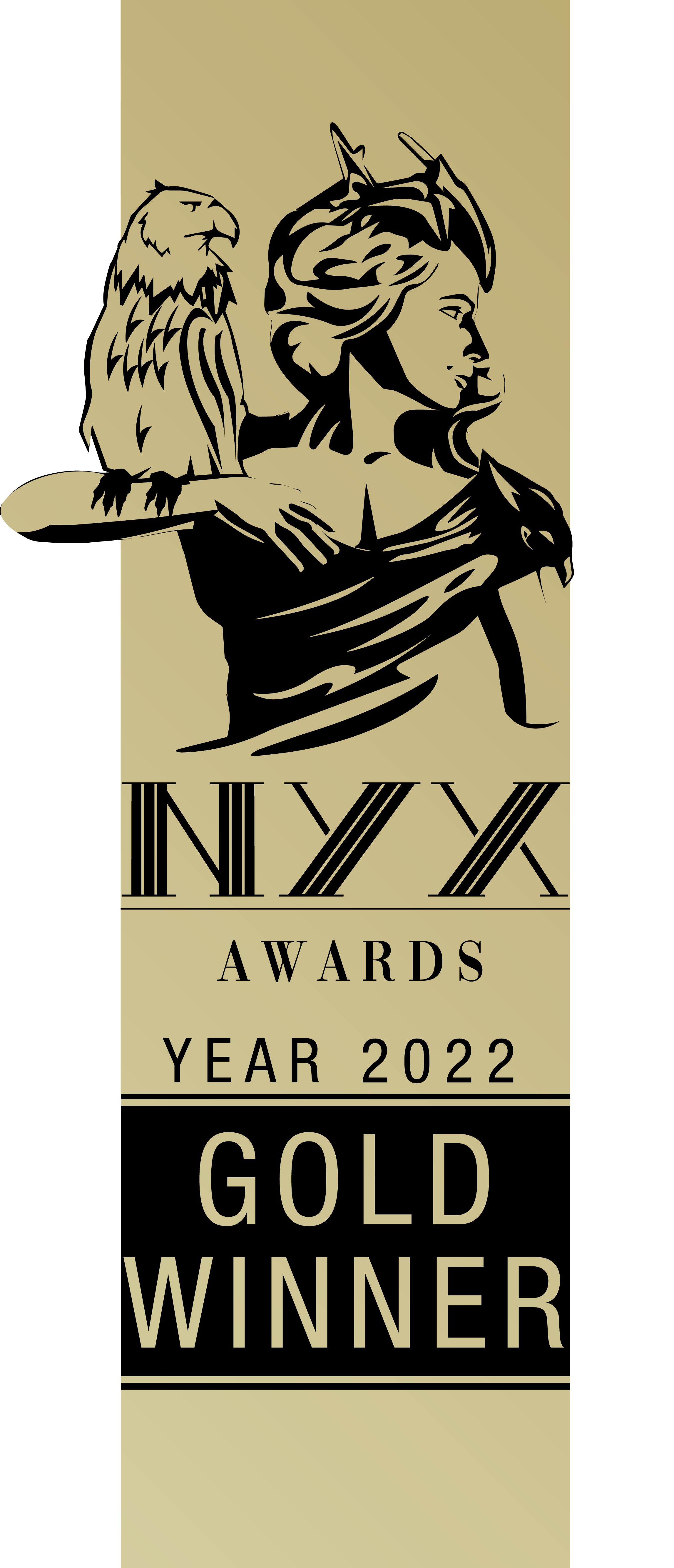 The second season of the 2022 NYX Awards has arrived at a stunning conclusion, and the International Awards Associate (IAA) is proud to reveal the complete list of winners! Recognizing and celebrating extraordinary creativity, the NYX Awards continues to acknowledge different variations of marketing and production content that impact the general audience across a wide facet of mediums, whilst having accumulated more than 1,200 entries throughout the season!
This year, Mobupps secures the Gold award in the global competition. The winning entry: MAFO – Marketing Automation Platform that led to our decisive victory was created by the Mobupps team.
We are very glad to be part of the golden winners this year. A huge amount of work was successfully done to develop this technology to enhance workflow and team efficiency. We had a lot of feedback from our team during a decade, summarized the most important requests, and came out with a solution to automate ad campaigns and boost the cost-effectiveness of campaigns for our partners. This automated technology helps generate leads, grow leads and audiences, and measure the overall ROI of campaigns. Mobupps uses MAFO every day and due to MAFO, we can automate marketing campaigns and sales operations to increase revenue and maximize the impact.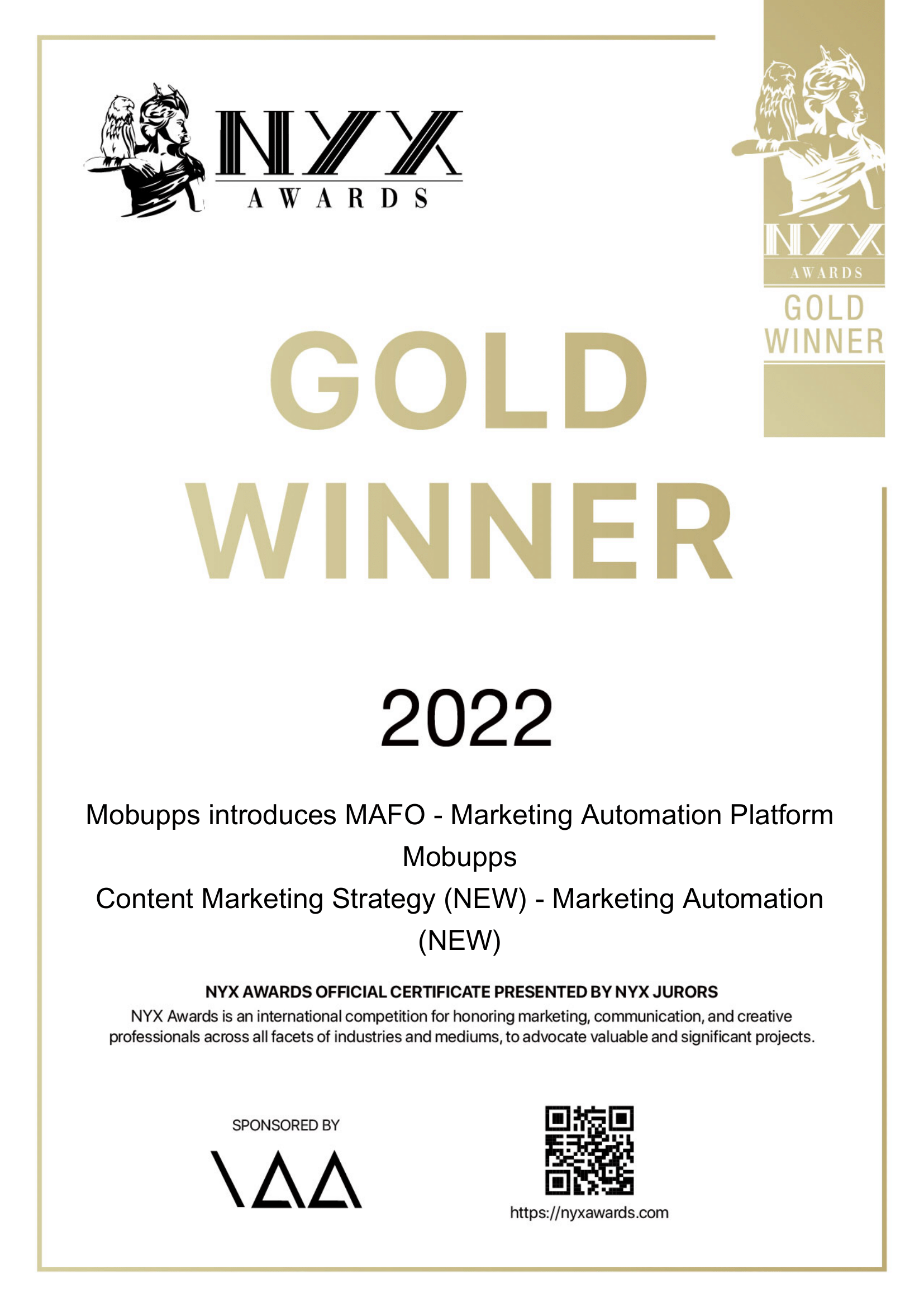 Encompassing worldwide excellence in marketing, communications, and video production sectors, the awards program has been progressing towards honouring innovative individuals, teams, firms, and organizations for their astounding accomplishments in marketing materials (print or digital form), videos, advertising, and public relations, broadcast television operations, and creative services since its' initiation.
"In the 2022 NYX Awards, it is so thrilling to have received an uncountable number of entries with media branding messages that not only consists of innovative notions but overflowing with professionalism and exceptional marketing content as well!" proclaimed Thomas Brandt, spokesperson of IAA. "It is a proud and honourable moment for audiences globally and the entire industry to witness the emergence of the best strategic executions of the century."
With the huge leap in quality, IAA is making noteworthy measures to perpetuate the flames of all related industries, specifically from the aspects of its' proficient jury panel. Within this group of professionals, only elites who are handpicked for their paramount apprehensions are invited to provide assessments by exemplary standards implemented throughout a wide system of channels with impartiality.
GRAND JURY PANEL
Receiving entries from over 30 esteemed nations, the NYX Awards have been providential to involve respected individuals who have evaluated these submissions to determine the grand winners who spearhead distinguishable achievements and integrations. Some of these prestigious jurors include Anthony Wiktor (United States), Birge Linke (Singapore), Anthony Jones (United Kingdom), Pancho González (Chile), Daniel da Hora (Brazil), Jurij Plavnik (Italy), Jonathan Winbush (United States), Sam De Win (Belgium), Tracey Miner (United States), Leandro Peixoto (Portugal), and many others.
"Moving forward to 2023, the NYX Awards has achieved something far greater than fame or just plain marketing strategies, it is the limitless possibilities that I foresee that will forever alter corporate marketing and video content," said Thomas. "There will be no success without creativity, whereas entrants continue to surprise me to the very core with their branding selections, creating the most value in the fields of marketing, communications, media, and any associated communities."
About NYX Awards
The NYX Awards is a leading international awards program that recognizes, celebrates, and provides acknowledgment favouring all who possess extraordinary calibre across all facets of industries and mediums, specifically in the fields of marketing, communication, advertising, creativity, public relations, graphic design, print, digital, video, and audio. NYX simulates monumental achievements of boundless industries, viewed as a symbol of the highest standards for those who bear it.