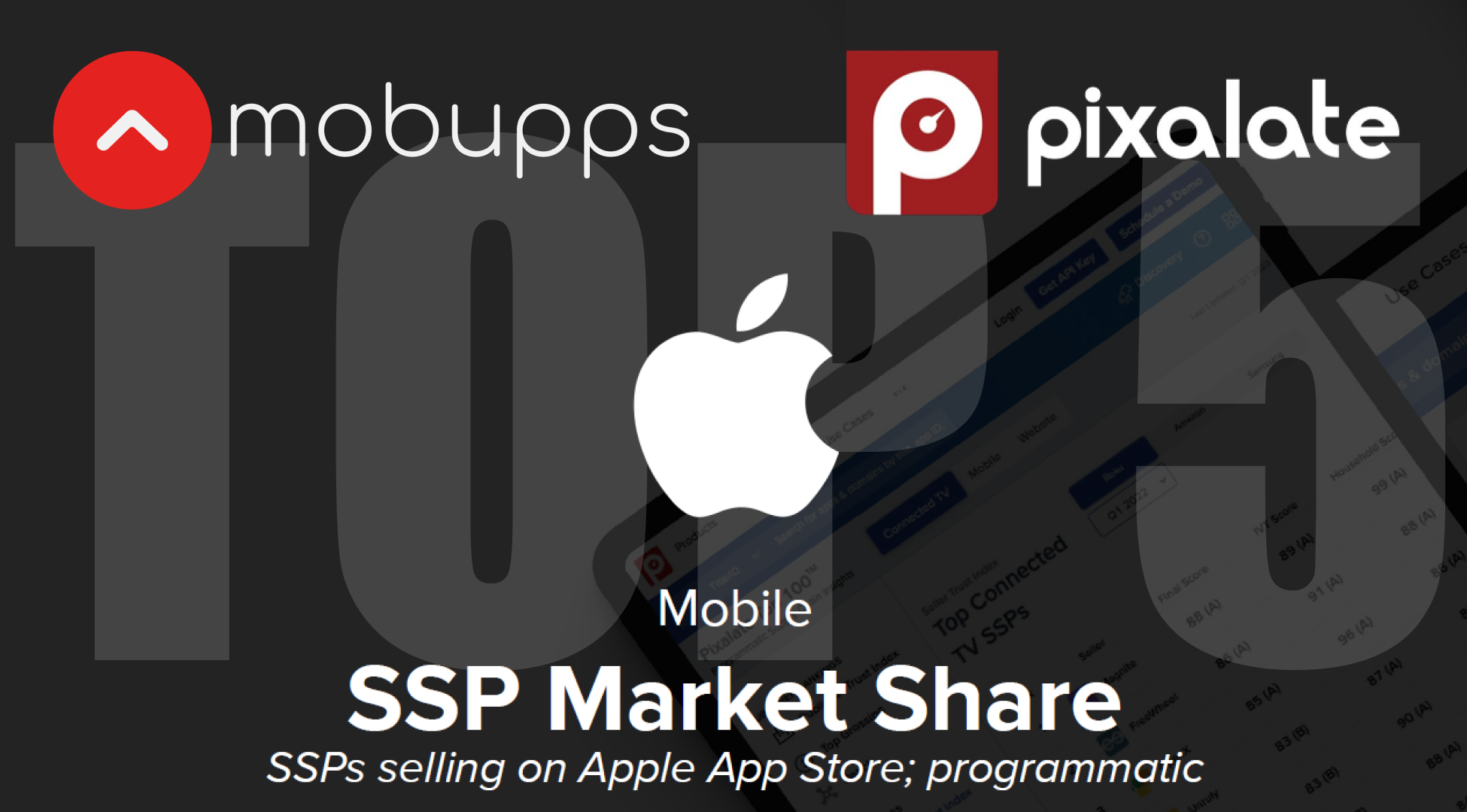 Mobupps in Pixalate's TOP-5 SSP Selling on App Store
Have you ever heard of Pixalate reports? Probably yes. So Mobupps are constantly present in their reports. And the new Mobile SSP Market Share Report differs from all the others in that we entered the TOP-5. In just half a year, we moved from the TOP-50 to the TOP-5.
Pixalate reports analyze market trends, market share percentages, and other important data related to the digital advertising industry. Our presence in these reports once again proves the work quality and team professionalism.
The first and key feature of this article: Mobupps has been ranked TOP-5 in Mobile SSPs selling on the Apple App Store in the EMEA region in Q1 2023. We are certainly pleased with such performance in EMEA, and we are confidently planning to reach the same results in North America in the nearest future.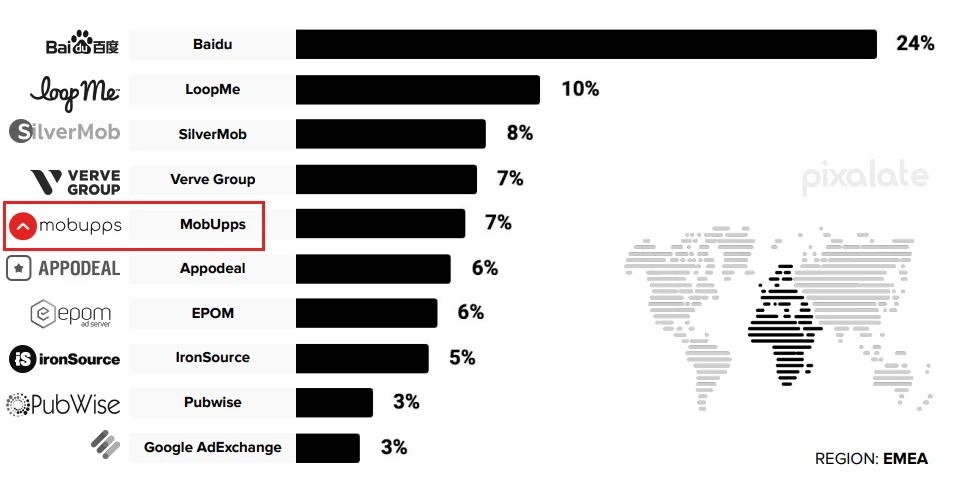 In brief, Pixalate's monthly SSP Market Share report ranks programmatically advertised Sell Side Platforms (SSPs) by their estimated market share for key CTV and Mobile platforms.
Mobile SSPs are connected to mobile ad exchanges, which is where app publishers and app developers offer their available mobile impressions to advertisers. They are part of an already existing SSP ecosystem and are usually not a standalone program. Therefore, when referring to mobile SSPs, you mostly refer to the function in your typical SSP that handles your mobile inventory. It helps publishers to evaluate their specific goals, inventory quality, and relationships with buyers to determine the most suitable selling strategy.
On Mobile, Mobupps presents at the TOP-3 in the EMEA region in Shopping and Family & Relationships on App Store.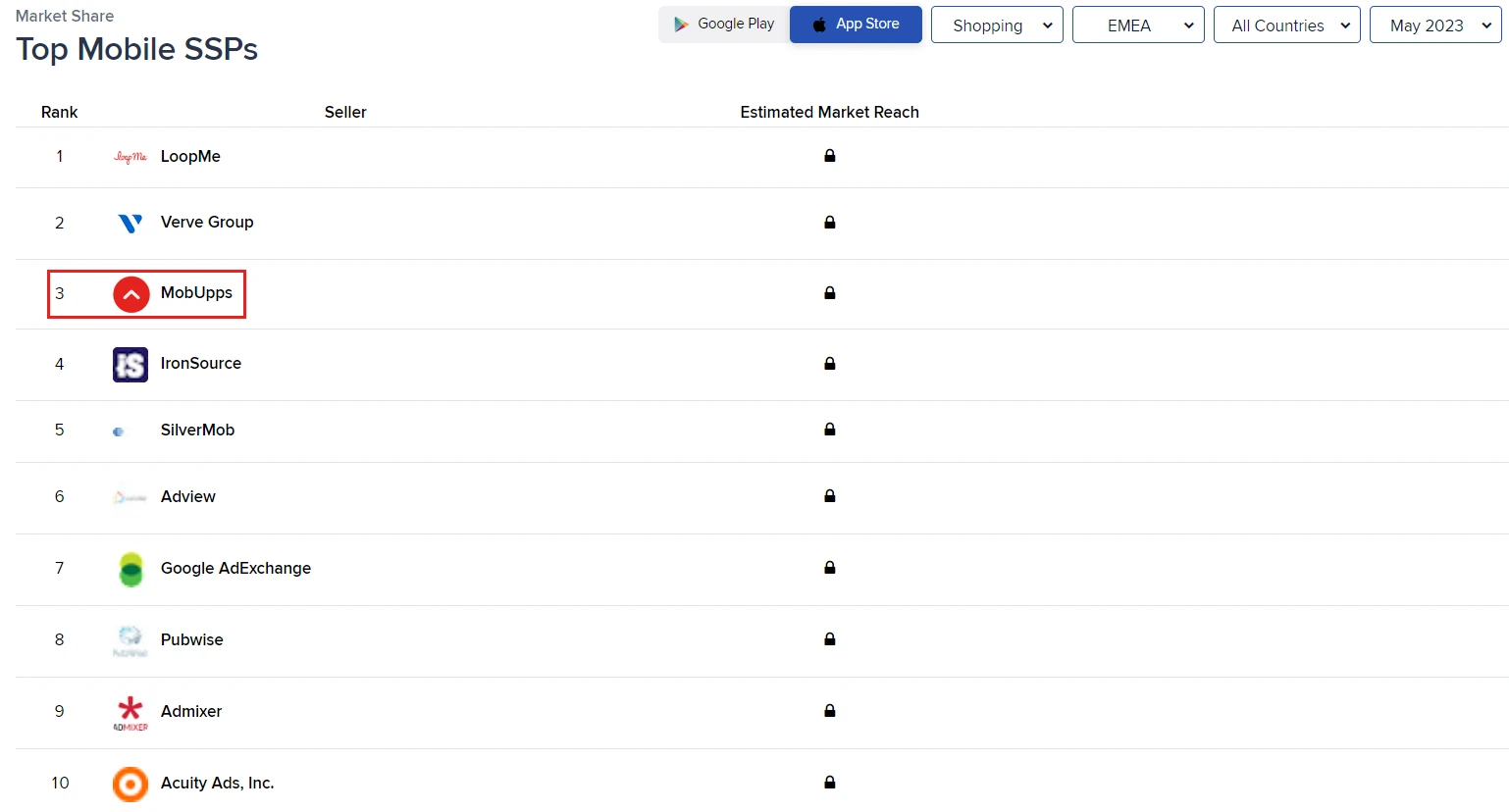 Also, we are ranked at the TOP-5 in the EMEA region on App Store in such categories as Automotive, Books & Literature, Business & Finance, Healthy Living, Education, Music & Audio, Travel, Medical Health, News & Politics, Hobbies & Interests, Technology & Computing, Personal Finance, Sports.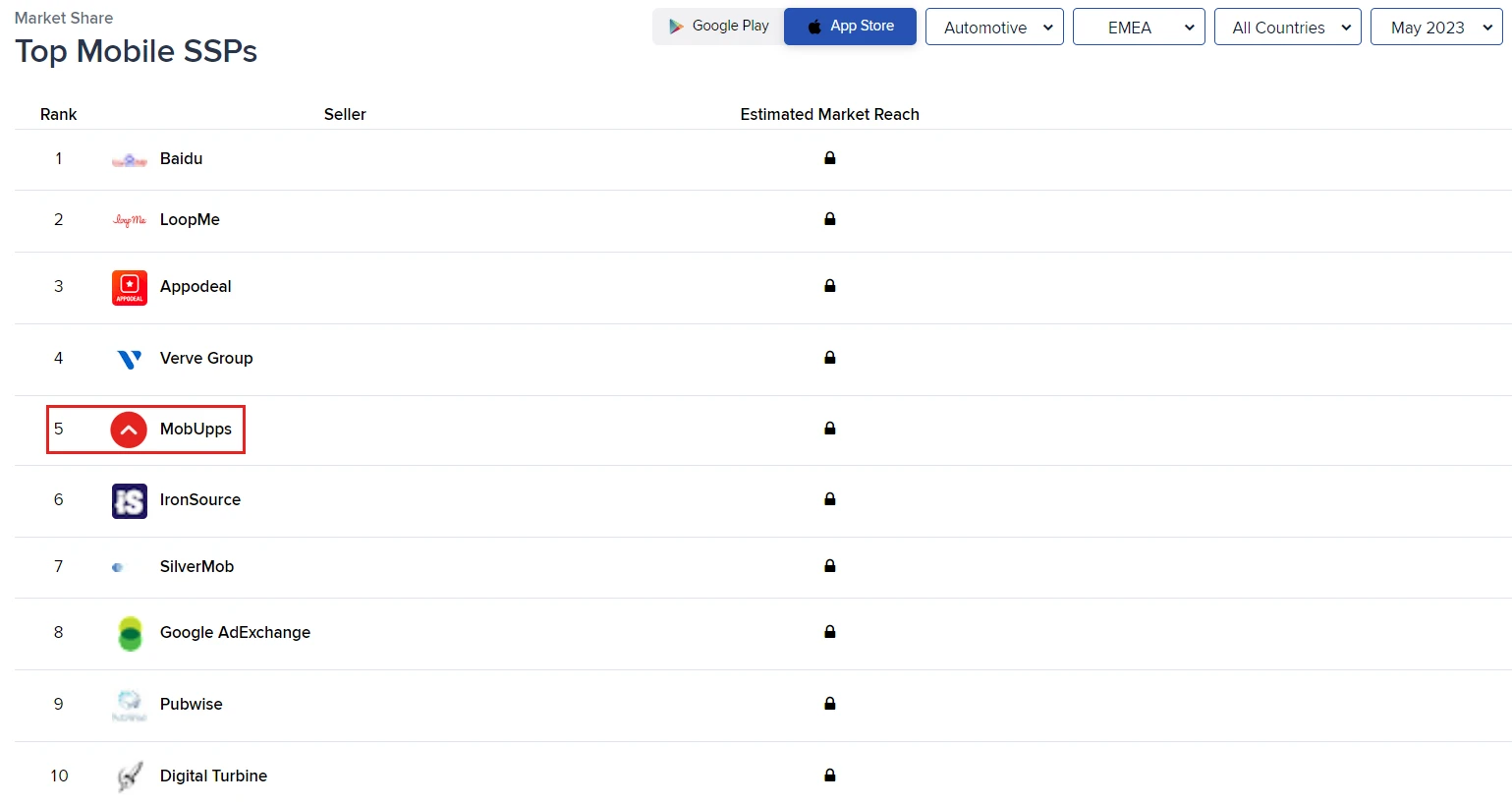 Besides that, Mobupps is at the TOP-10 in the EMEA region on App Store in Global, Video Gaming, and on Google Play in Home & Garden, Food & Drink categories.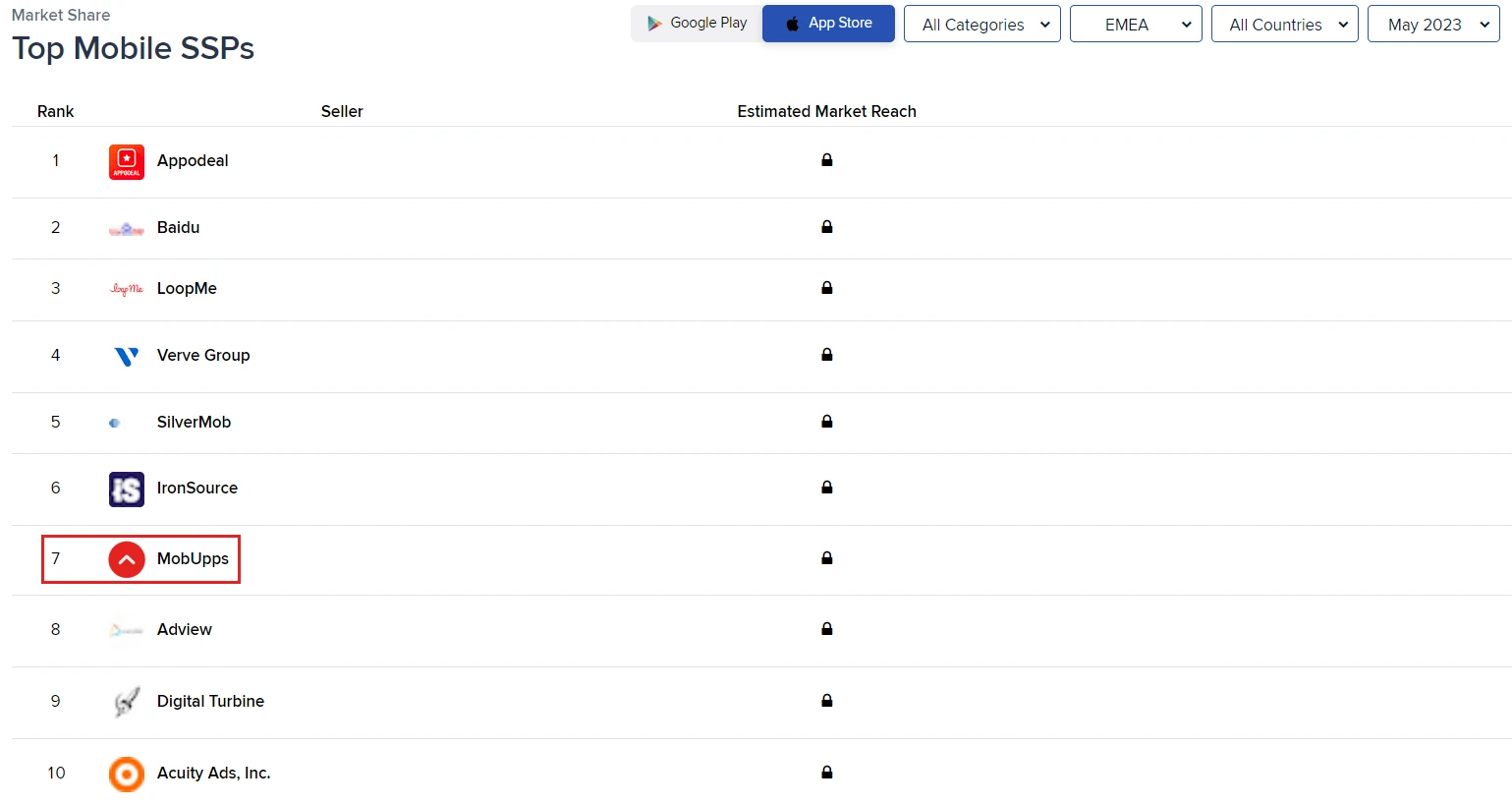 In APAC on App Store, we are ranked in the TOP-10 in the Automotive category.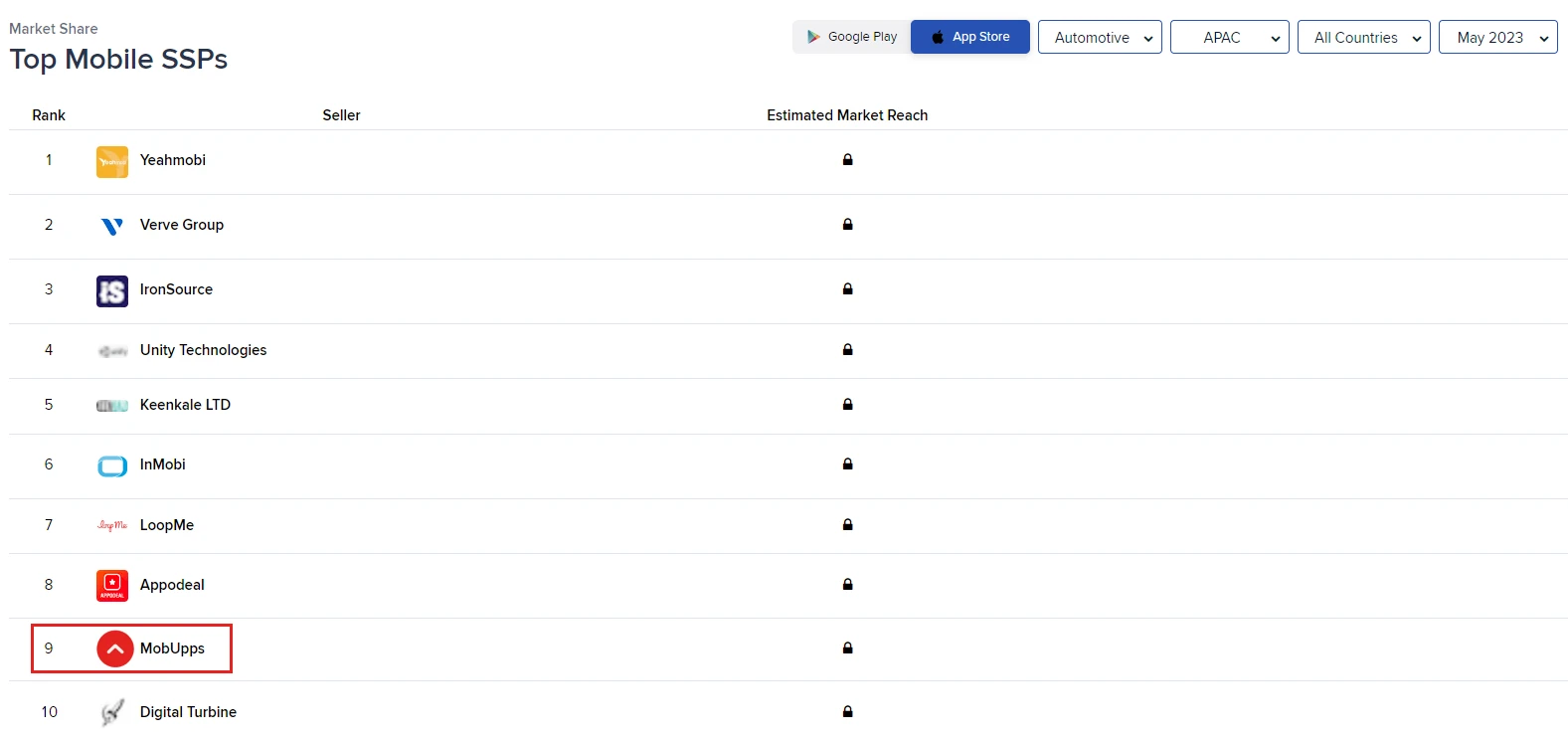 In North America and LATAM, Mobupps also is ranked at the TOP-10 in Events & Attractions on Google Play.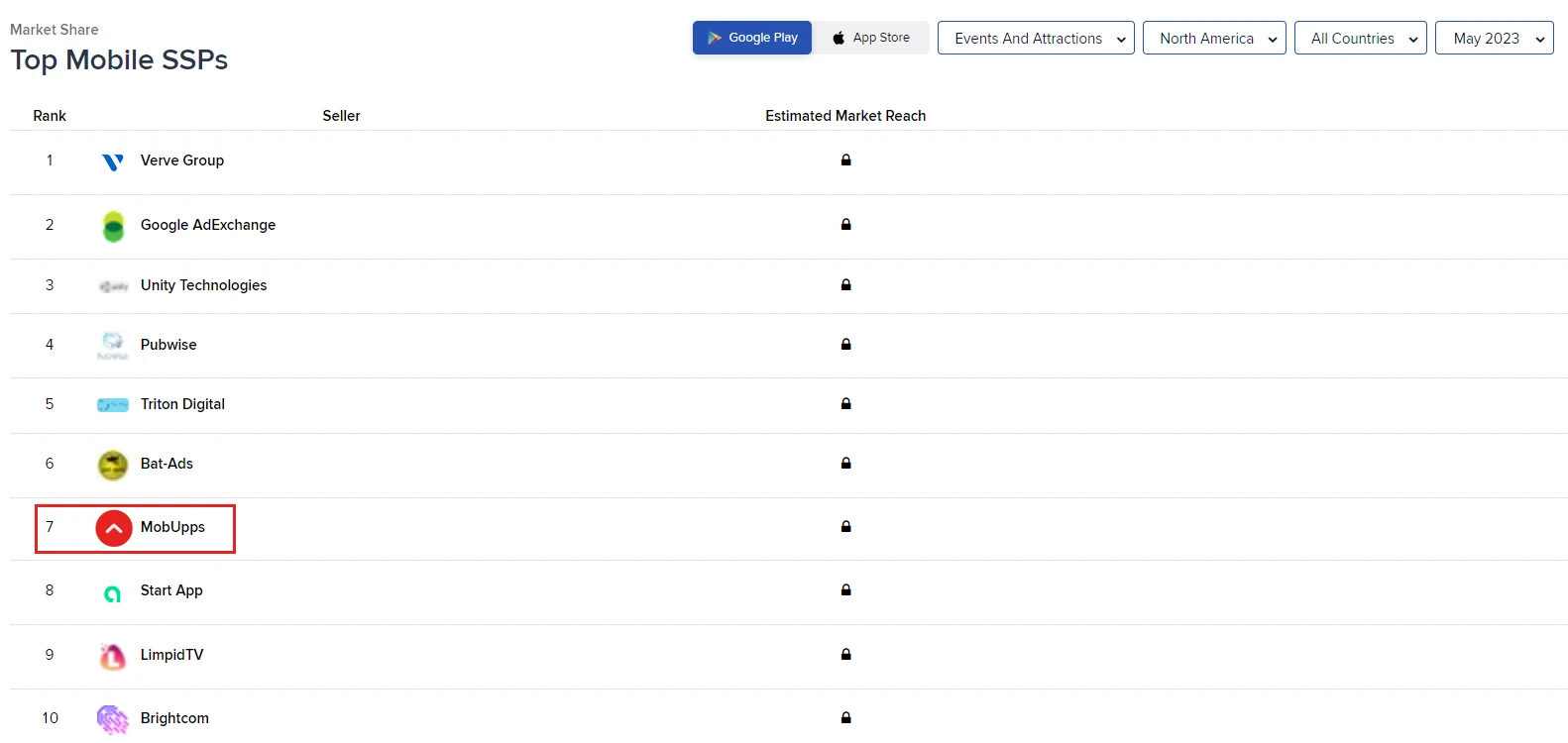 This is just the beginning. Mobupps has a lot of work ahead to conquer the SSP of each region and gain a foothold at the TOP-5 in all categories. Are we ready to work at the same pace? Definitely yes! Become our new partner or client and be at the top of the market. Let's get started with one click.